"Need to stitch my face back together for all the fan girls"
Urahara shows off the power of his Bankai to a surprised Askin and gets help from an unlikely ally.
Sorry that I wasn't able to review last weeks but besides from being busy I haven't been feeling 100% lately (might be coming down with something) but I am here for this epic chapter! Finally we Bleach fans get to see one of the most anticipated Bankai and so far it hasn't disappointed. First off I really like the design of Kannon Biraki Benihime Aratame because I much prefer it when Kubo creates giant Bankai like Mayuri's and Komamura's because there is just so much more detail in them. I guessed ages ago his Bankai might be female looking because his Zanpakuto is one of the only few confirmed with a female spirit and it does look rather creepy looking with it's doll - like appearance. Secondly it also has a rather useful ability that can spilt open and stich back together anything Urahara wishes such has his damaged eye and his arm so he can deliver and powerful blow against Askin. Now I really don't think that this is it for his Bankai's abilities because since Zanpakuto are supposed to mirror the personalites of their owners I'm guessing Benihime also has a darker side like Urahara.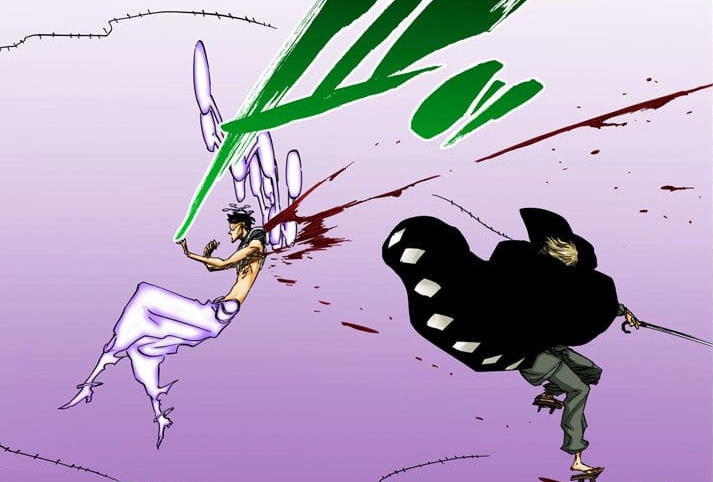 Bet your surprised Askin
As for the fight it got really good with Urahara coming back strong thanks to his Banaki ability and actually has Askin on the ropes. I do like Askin saying that he doesn't really like close combat but he did carry a really interesting looking spear or trident in one of the panels. However the fight suddenly ends with the arrival of Grimmjow who mercilessly rips out Askin's heart and crushes it. I read that a lot of fans where disappointed that Grimmjoe hasn't done much since his return but I think this brutal move really makes up for it. Now I seriously doubt that Askin is dead because Kubo seems to really like him based on how much development he hasn't given the character so I'm 95% sure Askin will transform into something else. I also am saying this because the next chapter is 666 and there are a lot of fan speculation that Kubo is saving something really big or shocking for this.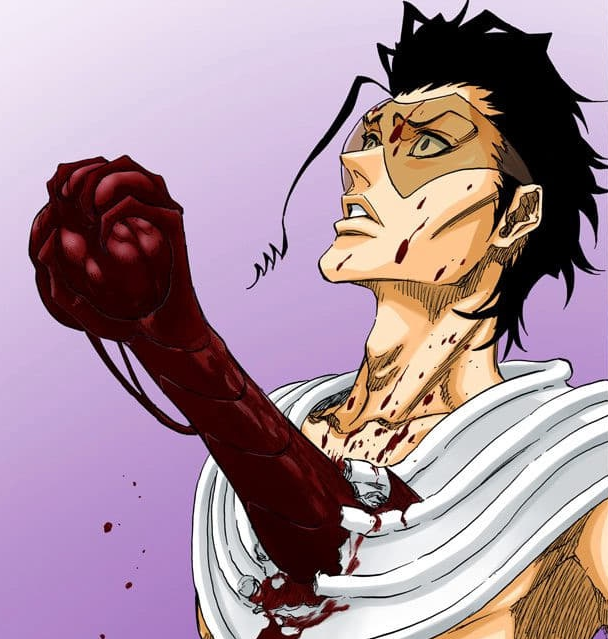 DAMN! Now that's pretty brutal!
Overall a really entertaining chapter for a Bankai that did not disappoint.
SCORE: 10/10